Pre-recorded sound effects to keep your story moving
Let us help you find the perfect sound clip for your project. Use our keyword search to get started, and then filter by duration or category. Maybe you need a looping ambient sound like waves crashing for the background of your podcast. Or maybe you're looking for a short burst like a buzzer to signal a transition. With a Storyblocks subscription, you can download from our library of 10,000+ pre-recorded sound effects without the need to edit sounds yourself. We're always adding fresh new sounds from our team of independent sound creators and composers. All sound effects can be downloaded as MP3 or WAV files.
Get Started
Top Royalty Free Music Collections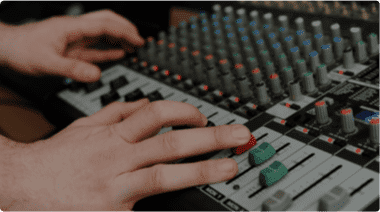 Tips and Tutorials
Want to learn how to incorporate sound effects into your podcast, YouTube video, or another project? Check out our tutorials hub to discover new ideas.
Why Storyblocks?
Organize your favorites before you commit
Sometimes, even after a few keyword searches, you may not be able to find what you need or keep track of clips you find. Creating an account lets you save and organize clips into folders, download watermarked previews, and more - no credit card required. Get started on organizing your next project by creating your free account.
Easy to use in any software
As a creator, there are tons of places where you can use sfx to tell your story. Our sound effects are easy to use in sound editing tools like Audacity and Adobe Audition, as well as video editing software like Premiere Pro.
Royalty Free means no hassle for you
With a Storyblocks subscription, you get a license that covers you to use any of the effects in our library. Once you download a sound, you can use it as many times as you need and it covers you forever. This also means that even if you cancel your account, you can still use the content in whatever project you need.
Huge selection of sfx
We pride ourselves on our huge selection of fresh, hand-picked sound effects. These can be used in projects such as podcasts, video games, production music mixing, YouTube videos, film & TV, social media video, Powerpoint presentations, mobile apps, and more.
Plans & Pricing
Individual

Plans with licensing and features for content creators, freelancers and video professionals.

See Plans

Business

Plans with enhanced licensing and exclusive features for broadcast, video production, and marketing teams.

Learn More
Ready to start adding sound effects to your work? We offer several flexible plans at different price points so you can find the best option for your budget. Our Unlimited plan lets you download as many sounds as you need, and every file is yours to use forever. You will also have access to our royalty free music library. By selecting an annual plan, you can save up to 50% and create without any limitations. Visit our plans and pricing page to find the best subscription for you.